Partner Sites:





Diving Harbour Island

Harbour Island offers some of the most fantastic and pristine diving conditions in the Caribbean. Beautiful canyons encrusted with coral and sponges are just a short distance off shore and Devil's Backbone running along the northern shore of Eleuthera offer some of the best wreck diving in the Caribbean. The coral reefs just off the pink beaches make for fantastic snorkeling, with fish and sea creatures throughout.

Ocean Fox Diving

The Ideal Bahamas Diving destination...

Whether you've been diving for years or are just beginning. Ocean Fox Diving offers dive excursions that will satisfy any diver.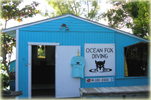 If you're a seasoned diver looking for superb diving that's easy to reach, you'll find it at Ocean Fox Diving. Whatever your preference - reefs, walls, grottos, drift dives, night dives, big fish, tame fish, rays, or sharks - we can take you to the right spot. Bring your own equipment or use ours. We can even provide a camera so you can record your experiences. If you want to learn SCUBA, Ocean Fox Diving is the perfect place to start. Take our resort course in the morning, then head off on your first dive in the afternoon. Spend a few days and earn your PADI certification. All you need to bring is the desire, we'll take care of the rest.
Ocean Fox Diving is located at the Harbour Island Club & Marina. For information on rates and deep-sea fishing charters, call Jef Fox, Divemaster, at:

Ocean Fox Diving
c/o Harbour Island Club & Marina
Harbour Island, Bahamas
1-242-333-2323 (local)
1-877-252-3594 (toll-free from the US and Canada)
FAX - 242-333-2427
e-mail: dive@oceanfox.com


Here is a list of some of the local dive sites.

The Blue Hole
Depth: 25 to 40 feet
Skill Level: Novice

Easily reached from Harbour Island and carved into the base of Eleuthera by wave action, this cavern is safe and easy to dive. It takes you though a network that is populated by lobster, tarpon, and parrotfish.


The Plateau
Depth: 40 to 90 feet
Skill Level: Novice to Advanced

Schools of grouper can be seen on this 40-90 foot dive through ridges to canyons. The canyons of coral are filled with vibrant sea life. They offer a spectacular opportunity for underwater photography.



The Arch
Depth: 65 to 110 feet
Skill Level: Novice to Advanced.

Bring a wide-angle rig to photograph the beautiful natural arch at the deepest point of this dive. You'll enjoy the journey down and back too, thanks to deep spur-and-groove coral channels loaded with schools of midnight parrotfish and swarms of juvenile tropicals.


Train Wreck
Depth: 25 to 35 feet
Skill Level: Novice.

A Confederate smuggler out of North Eleuthera sank in a storm in 1865. The ship carried cargo which included a locomotive and several railroad cars. The ship sank just offshore in 25 to 35 feet of water. This wreck is located in the Devil's Backbone. Close by lies the Carnarvon, a 200-foot freighter that sank in 1919. It is still intact, sitting in 35 feet of water.


Cienfuegos Wreck
Depth: 10 to 35 feet
Skill Level: Novice.

Just a few hundred yards away from the Train Wreck lies the twisted remains of a passenger steamer wrecked in 1895. Part of the Ward Line of New York, this 200 foot long steel hulled ship crashed into the reef line during a storm. All passengers on board survived and her cargo of rice was eventually salvaged. The twisted wreckage now lies in depths ranging from 10 to 35 feet. Her most prominent features include two giant heat exchangers, a big boiler and the main drive shaft. The wreck looks like an undersea junkyard with jumbled steel plates, broken ribs and twisted steel beams.


Potato and Onion Wreck
Depth: 10 to 35 feet
Skill Level: Novice.

Another ship struck the very same spot on the reef where the Cienfuegos sank, leaving her large metal rudder barely five feet from the bow of the first wreck. The Vanaheim was an 86 foot coastal freighter carrying a cargo of potatoes and onions. She ran into Devil's Backbone during a storm in February, 1969 and the force of the sea pushed her over the barrier reef causing her to sink in 15 feet of water. Her remains lie in a pretty reef area, thus offering an unusual combination of good wrecks for diving. These include, the Carnarvon, a steel freighter wrecked in 1916 and now lying in 30 feet of water, and a 76 foot commercial shrimper wrecked in August, 1969 and presently lying in 20 feet of water. Many other ships have been lost on Devil's Backbone but their identity and exact location have not been fully researched.


Devil's Backbone
Depth: 25 to 50 feet
Skill Level: Novice to advanced.

Running along the top of Eleuthera is a series of shallow coral reefs known as Devil's Backbone. Clumps of razor sharp Elkhorn coral rise up from the bottom right to the surface and are often awash at low tide. This barrier reef line is a graveyard for lost ships. It is a littered with shipwrecks dating from the early sixteenth century on. It is in this reef system near Cave Bay that the William Sayle's vessel containing the first settlers to Eleuthera and Harbour Island foundered in 1648. It is now one of many unidentified ballast piles that lie among the coral heads.


Blow Hole
Depth: 55 feet
Skill level: Novice to advanced.

You can't dive this site when the tides are spouting through the namesake rock, but at slack tides you'll experience a whole different side of the Bahamas. Corals and sponges grip 10- to 50-ton boulders lined up in a labyrinth. Parrotfish, porkfish and other reef fish serve as guides to this underwater maze.


Current Cut
Depth: 30-65 feet
Skill level: Advanced

A favorite of adrenaline junkies, this dive combines the sensations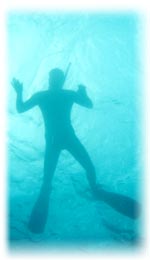 of scuba and skydiving. Divers willing to take on the six- to 10-knot currents are dropped off at one end of the passage between North Eleuthera and Current Island. They ride the tide past walls of coral about 75 yards apart, often accompanied by schools of jacks, groupers and stingrays.


Shooting the Current Cut was a big thrill back in the 70s. Divers from around the world came to stay at the Current Club Hotel on Eleuthera Island in the Bahamas to experience flying underwater.

A decade ago a powerful hurricane pushed the Current Club Hotel into the ocean and blew the scuba destination off most people's wish list.


The Pinnacle
Depth: 50-120 feet
Skill Level: Advanced

The pinnacle is a 100-foot plus dive on a cavernous mountain of coral. The tall coral heads project from a deep sand bottom and provide a pedestal for giant sponges and trees of Black Coral. Sharks and other large sea creatures are frequent visitors to this formation.


Coral Etiquette

Whether you swim, snorkel, scuba, or free dive; please help protect our reefs.

Corals are colonies of very small animals which may take hundreds of years to form the structures visible today. Simply touching corals to see what they feel like can cause the death of an entire colony. Oils from your skin can disturb the delicate mucous membranes which protect the animals from disease. If feeding coral is startled, it retracts for protection and in doing so is unable to feed. Don't walk upon or stand on coral, as this can kill the living coral polyps that are the builders of the reef structure. Don't touch, pickup or hold reef inhabitants, and never pull octopus from their habitats.

Anchoring:

Use a sand type anchor placed well away from any reef formation in sea grass or sand bottom and up wind (or tide) from where you want to dive, then allow the boat to drift into position near the reef. Always check that the anchor is well secured in the sand before diving on the reef. Even experienced divers have at some time in their life accidentally bumped or broken coral, so the inexperienced should be particularly careful.

Look, but don't touch.

A careless mistake could wipe out a whole community. Coral reefs are the essential breath for a vast and still unknown marine life. The zoothanthellae which live in the coral, provides the essential oxygen for the coral to live and proliferate. Without the algae, the reef would not grow and without the coral a score of marine organisms would not exist. When coral reefs are foolishly destroyed by the use of chlorine bleach or other deadly chemicals for fishing practices, this kills the algae and corals. When you destroy the coral, you strangle the marine life of its breath and deprive our future children of nourishment from the sea.